"Under the new retrofit law, property owners will have seven years to strengthen "soft-story" wooden apartments and 25 years to strengthen concrete buildings."

– The Los Angeles Times
"Retrofit is an improvement of the lateral force-resisting system by alteration of existing structural elements or addition of new structural elements."

– The City of Los Angeles Department of Building
and Safety's Mandatory Retrofit Programs
---
Seismic Retrofitting Law Throughout California
---
In 2015, the City of Los Angeles passed a law (Ordinance 183893), which requires action to be taken within 2 years (of receipt of the city compliance order) which mandates the retrofitting of:
A) Existing Wood-frame buildings with soft, weak or open-front walls.
Does not apply to residential buildings with 3 or less units.
B) Existing non-ductile concrete buildings.
Does not apply to detached single-family dwellings or detached duplexes
Without proper strengthening, these vulnerable buildings may be subjected to structural failure during and/or after an earthquake.
---
The Kalt Group's Seismic Retrofitting Process
---
Complimentary consultation and on-site building assessment.

Architectural and engineering design.

Submittal of architectural and engineering plans to the city for review and approval.

Permit expediting.

Upon issuance of permit, a cost estimate will be provided.

Tenant Habitability Plan (THP) and tenant coordination.

Perform work.

Scheduling all inspections with the city.

Project completion and site clean-up.

Final inspection and obtaining a Certificate of Compliance from the City of Los Angeles.
Our Competitive Edge
We have partnerships with lenders and can help you secure financing if needed.
---
If selected to perform your seismic retrofit project, The Kalt Group will provide the following additional services free of charge:
Tenant Communication
Throughout the retrofitting process, tenants will receive written notices regarding construction and all other relevant information.

The Kalt Group's

 office will be available Monday-Friday from 9:00 AM until 5:00 PM to address all tenant questions and concerns (phone, email correspondence or office appointment).
Tenants will be provided with an emergency pager number in the unusual event that a crisis arises after office hours.
Landlord / Property Owner Updates
The Landlord will receive progress and status updates regarding all the work being performed on the property.
All significant tenant interaction will immediately be brought to the property owner's attention.
---
Seismic Retrofitting Division
---
The Kalt Group's Seismic Retrofitting Division was established to assist property owners with bringing their building into compliance. With extensive knowledge and experience in the property management and construction sectors, The Kalt Group will gladly assist with the overseeing of other required aspects, such as various capital improvement, increase and expenditure programs.
---
Construction
---
Casa Blanca Construction and Development, Inc. (CBC), is a fully-licensed, bonded and insured division of The Kalt Group. CBC oversees all of The Kalt Group's retrofitting projects. With more than 20 years of experience in construction and seismic retrofitting, CBC's strong relationships within the industry enables low costs and streamlining time efficiency for all clients. This has lead to valuable company reputation and client satisfaction — CBC's top priority.
---
Apartment Ownership & Property Management
---
Since 1959, The Kalt Group has owned and managed residential apartment buildings, townhouses, single family homes and properties throughout Southern California. For this reason, The Kalt Group has the ability to relate to the needs, specific worries and concerns of other property owners first-hand.
In regards to building retrofitting of any type, it's invaluable to have a company on your side that is experienced with tenant management. Equipped with friendly and helpful office staff, an in-house maintenance crew, trusted rental agents, financial advisors, legal advisors, and connection with City Officials, The Kalt Group has an abundance of resources.
---
Does Your Building Comply?
---
A) Wood-Frame Building with Soft, Weak or Open-front Walls.
Referred to as "soft-story," the building is a structure which has a weaker first floor and is unable to carry the weight of the stories above during an earthquake. The first floor generally would have large openings in the perimeter walls such as garages, tuck under parking (this type of parking beneath the 2nd floor) or even large windows.
Images of a Soft-Story Structure

Compliance Time-Frame
B) Non-ductile Concrete Structure
Concrete can't bend. It's known by engineers as "non-ductile." Instead of bending like a paperclip, concrete columns can snap like a piece of chalk. Concrete buildings with a roof and/or floor supported by a concrete wall or concrete column, constructed before January 13, 1977 puts older concrete buildings at risk during a major earthquake.
Images of A Non-ductile Concrete Structure
Compliance Time-Frame
–Within 3 Years — Must have submitted documentation to the City to begin the inspection process.
–Within 10 Years — To establish whether an acceptable retrofit has already been conducted or that a retrofit is required.
–Within 25 Years (total) — The City must approve all completed retrofit work.
---
Past Earthquake Damage
---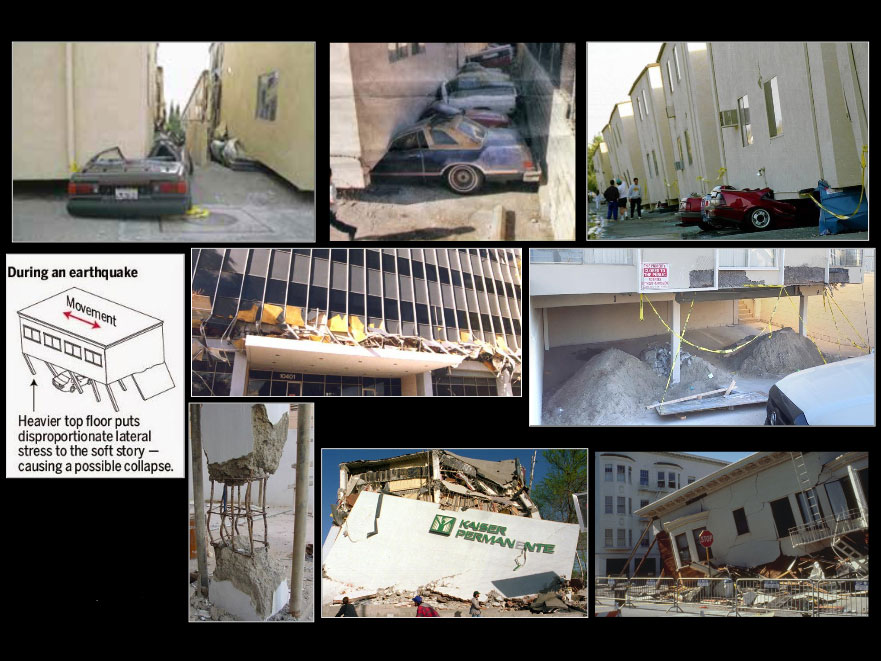 ---
Various Structure Solutions
---